Located at the foothills of the Bukit Timah Nature Reserve, The Reserve Residences is thoughtfully curated and features a dynamic blend of 1-5 bedroom luxury residences, serviced residences, shops, F&B, community and public spaces, with direct access to Beauty World MRT Station. This prime estate is known for its upscale residences, top-tier schools, and abundance of greenery.
Find out More »
The Continuum is a freehold condominium at the forefront of the transformation. Built on the largest freehold plot in the East. Located in District 15,
Real estate transactions in Singapore involve various legal documents that govern the buying and selling process. If you are home hunting
Buying a home can be an exciting adventure but identifying the perfect dream home can potentially be a nerve wrecking
The government has today announced its public land sales slate for the second half of 2023 (2H2023) which sees a
The sales momentum of new private homes continued to gain traction in May 2023, building on April's transaction growth. Developers'
The property market in Singapore has always been a topic of great interest and discussion. Aspiring homeowners and investors often
The HDB resale transaction volume picked up from April to May, rising by 3.2% MOM to 2,256 flats in May.
Singapore has always been one of the most attractive destinations for real estate investment. With its reputation and long track
Working from home has become increasingly popular, offering numerous benefits such as flexibility and convenience. However, it can be challenging
Renting a property in Singapore involves signing a tenancy agreement, which serves as a legal contract between the landlord and
The Core Central Region, CCR, includes prime areas of Singapore (like districts 9 – Orchard, Somerset, River Valley, 10 – Tanglin, Bukit Timah, Holland and 11 – Newton, Novena, Dunearn, Watten), and the Downtown Core (including parts of Bugis, south of Ophir Road), as well as Sentosa.
Outside Central Region (OCR) is everywhere else in Singapore. It's about three-quarters the size of Singapore. These are the areas where mass-market condos at the lower range of price points are mostly located, including executive condominiums (ECs).
Book an appointment to view the show flat.
Get latest Price list, Site/ Floor Plans, Brochure.
**No Commission Payable!!
Get an in depth assessment and comparison with nearby projects.
The Government has introduced new cooling measures on 15 Dec 2021. Here are the prediction of the Property Market Outlook in 2022. Increase in HDB
For many homebuyers, integrated developments tick all the boxes in terms of offering seamless transport connectivity via direct access to the MRT and bus interchange,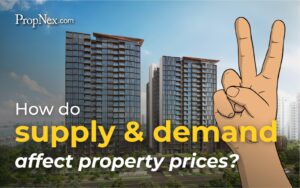 So how does supply and demand affect property prices? When the current interest rate is the highest ever over the past 2 decades, savvy buyers will be
8 MAY 2023, SINGAPORE – Developers' sales rose by 13.6% month-on-month in March, partly driven by new launch mass market project The Botany at Dairy Farm, which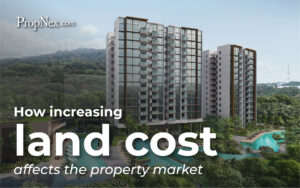 Increasing land cost and how it affects the property market Developers have to bid for a piece of land through the Government Land Sale (GLS) programme which