Buying/ Selling A Property
Selling a property in Singapore can be a significant decision that involves certain factors to consider. Whether you're looking to upgrade, downsize, or simply move to a new location, selling your property can be a complex and sometimes overwhelming process.
As your property buddy, my goal is to help you navigate the selling process by providing tailored advice and guidance throughout the selling process. In this article, I will provide a step-by-step guide to the selling process in Singapore, as well as offer tips and advice to ensure a successful and smooth transaction.
Engaging a real estate agent
The first step is to engage a licensed real estate agent to help you with the selling process. Real estate agents in Singapore are regulated by the Council for Estate Agencies (CEA). They can help you with everything from pricing your property to advertising to property presentation and negotiating with buyers.
Determine your selling price
The next step is to determine the selling price of your property. Once you have decided on your preferred real estate agent, they would provide a professional and realistic assessment of your property's value by conducting a comparative market analysis, which involves comparing your property to similar properties in the area that have recently sold as well as the property's unique features and condition as well as taking into account market conditions. This would ensure that your property is priced competitively, attracting the right buyers. You can then set a price based on this analysis.
Preparing your property
Before you put your property on the market, your real estate agent will give advice on how to prepare your property for viewings. This may involve cleaning, decluttering, home staging and making any necessary repairs or upgrades if applicable depending on the condition of your property.
It is important to ensure that the property is well-presented and clean during these viewings.
Marketing: Advertising your property
Based on the property valuation and objectives, your real estate agent would develop a tailored marketing strategy to showcase the property's best features highlighting your property's unique features and value to potential buyers. This might include professional photography, virtual tours, and advertising using a variety of channels, including online listings, print ads, and property portals.
Buyer viewings
Once your property is advertised, your real estate agent will arrange viewings with potential buyers. You should try to make your property as attractive as possible during these viewings to maximize your chances of making a sale.
Negotiating with buyers
When a potential buyer expresses interest in your property, your real estate agent will negotiate with them on your behalf to achieve the best possible price and terms for you.
Option-To-Purchase
Once you have agreed on the terms of the sale, the buyer will sign an Option to Purchase (OTP) and pay a deposit. This gives the buyer the exclusive right to purchase the property within a specified timeframe, typically 14 days for private properties.
Finalising the sale
Once you have agreed on a price and other terms and conditions, you will need to sign a Sales and Purchase Agreement (SPA) with the buyer. The SPA will outline the details of the sale, including the price, payment terms, and any other conditions of the sale.
Completion: Hand over the property
Finally, you will need to hand over the property to the buyer and receive payment for the sale. Your real estate agent can help you with the legal and administrative processes involved in transferring ownership of the property.
Overall, selling a property in Singapore can be a complex process that requires careful planning, preparation, and execution. As your property buddy, my goal is to ensure that you achieve your objectives while enjoying a positive and stress-free experience. By providing tailored advice, honest communication, and exceptional service, I can help you navigate the selling process with confidence and achieve the best possible outcome. If you are thinking of selling your property in Singapore, please don't hesitate to contact me to discuss your options and how I can assist you in achieving your financial goals.
A collection of luxury homes at Avenue South Residence in District 03. Overlooking the evolving waterfront, the sophisticated 56-storey twin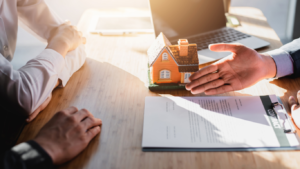 Real estate transactions in Singapore involve various legal documents that govern the buying and selling process. If you are home hunting in Singapore, one such document
Buying a home can be an exciting adventure but identifying the perfect dream home can potentially be a nerve wrecking journey in anyone's life. In
The property market in Singapore has always been a topic of great interest and discussion. Aspiring homeowners and investors often ponder about the ideal timing
Singapore has always been one of the most attractive destinations for real estate investment. With its reputation and long track record of a stable economy,
Buying a property is a huge commitment and there are many factors to evaluate before taking the plunge, including your housing needs and financial circumstances.