The private residential and public housing markets have had a remarkable year of recovery, with prices growing to an all-time high and achieving record-high sales volumes in the first 11 months of the year. According to data from the Urban Redevelopment Authority (URA), prices of private residential homes rose 5.2 per cent in the first three quarters of 2021, while resale prices of HDB flats rose by 8.9 per cent in the same period. There were a number of factors which had contributed to the stellar sales volume and rising price. Among them, the economic recovery, low interest rate environment, and the excess liquidity in the market. Sales were brisk across many projects this year particularly in the Rest of Central Region (RCR) and the Outside Central Region (OCR). In all, more than 12,400 new private homes, excluding executive condominium units (EC), were sold in the first eleven months of 2021 – surpassing the annual sales recorded over the past seven years. Demand for private homes were largely supported by HDB upgraders who have sold their HDB flats – to capitalise on growth in the HDB resale market and bought condominiums in the suburbs and the city fringe.
Private Residential Property Market
Overview
Private Residential Prices achieved new peaks and sold more units in the resale and new home sale market compared to past years. This was fuelled by the buoyant buyers' confidence, driven by the economic recovery, low interest rate environment and excess liquidity in the market.
Home prices and projections
1. Private home prices have climbed by 5.2% in the first three quarters of 2021; PropNex expects private home values to rise by 6% to 7% for the full year 2021. By regions, the prices of homes in the Rest of Central Region (RCR) had grew the fastest, climbing by 8.8% for the first 3 quarters of the year and is expected to grow by 10% for the full year. While prices in the Core Central Region (CCR) and Outside Central Region (OCR) are expected to post modest growths this year.
Private Residential Price Indices Year-on-Year Change (YOY%)
2. In view of the recent cooling measures, the growth in private home prices in 2022 is expected to moderate, rising by a slower pace of 3% to 5%. Given the hefty ABSD for foreigners and property investors, PropNex expects prices in the CCR to face more downward pressure, compared to the other sub-markets: RCR and OCR.
3. PropNex estimates that overall CCR prices could see a slight decline or stay flat in the full year 2022. Meanwhile, home values in RCR and OCR should remain resilient given tighter supply in these segments and as upgrading demand lend support to pricing.
New Home Sales Market
Developers sold 12,467 new private homes (ex. Executive Condos) during the first 11 months of 2021 – on track to become the highest annual sales since 14,948 units were sold in 2013.
The sales momentum in the new launch market was driven mainly by the success of several major OCR and RCR launches namely, Pasir Ris 8, Normanton Park and CanningHill Piers. Rising land prices possibly spurred home sales in the OCR and RCR in 2H 2021, with buyers likely concerned about higher values in the future.
The exuberant buying activity at new launches and rapidly depleting unsold inventory had led to a spill-over effect onto the resale home market and past launched projects in outlying areas.
Private New Home Sales
RCR projects dominated new home sales in 2021 – accounting for 41.6% of new homes sold. This was followed by new homes in the OCR (39.2%) and the CCR (19.2%).
The top selling project of the year was Normanton Park, selling more than 1,400 units out of its inventory of 1,862 units, with a median price of $1,790 psf.
Top 5 New Launch Projects in 2021 by total number of units sold
In terms of buyer profile, Singaporeans and Singapore Permanent Residents (PRs) made up 95.5% of the non-landed new home sales in 2021. Meanwhile, the proportion of new non-landed private homes purchased by foreigners made up 4.5% of sales. Despite the selective re-opening of borders, demand from foreigners may be dampened in the coming months due to higher ABSD rates for foreign buyers.
In 2021, about 75% of the new private non-landed homes sales fall under the mass-market pricing sweet-spot of $2 million. Most of these transactions comprised homes in the OCR (43.4%), followed by the RCR (41.2%) and a small portion in the CCR (15.4%).
Private New Home Sales (non-landed excl. ECs) by Quantum in 2021
Inventory and future launches
The unsold inventory has dwindled to 17,140 units as at the end of Q3 2021 – the lowest level of unsold stock since 16,031 units in Q3 2017
As at the end of Q3 2021, the unsold stock in the CCR, RCR, and OCR stood at 6,880, 5,878, and 4,382 units respectively. The unsold stock in the RCR and OCR has depleted rapidly over the past year due to the strong sales.
Going by past year's sales level, the unsold stock in OCR are likely to be cleared out within a year or so without new injection of supply.
Unsold inventory of new homes by region
The upcoming GLS Confirmed List slate for 1H 2022 will feature sites in RCR and OCR which will help to shore up new private home supply and meet demand for homes in the city fringe and suburbs.
In 2022, an estimated 8,000 to 9,000 new units are expected to launch across various projects. Some new launches which homebuyers can look out for include Belgravia Ace, The Arden, North Gaia – Yishun Avenue 9 EC project – and the Tanah Merah Kechil Link mixed use development.
In terms of new launch prices, projects in the RCR and OCR are expected to launch at benchmark prices – between 5% and 8% higher than the launch prices witnessed in 2021, owing to rising land rates as well as construction costs for developers. Whereas launch prices in the CCR could potentially soften owing to weakened demand from foreigners and investors due to the revision in ABSD rates.
New Sales Market Outlook
The increase in housing supply next year, coupled with the new cooling measures implemented with effect from 16 December 2021, will provide more options for buyers as well as stabilize property prices, which have grown substantially over the past year.
In 2021, PropNex projects that new private home sales will likely reach close to 13,000 units (ex. ECs); while in 2022, new sales volume may moderate to 9,000 to 10,000 units (ex. ECs) supported by genuine homebuyer demand from locals such as HDB upgraders.
Resale Market and Outlook
The secondary market did well in 2021, with more than 18,000 units resold in the first 11 months of 2021 (Resale: 18,131 units; Subsale: 479 units).
The most popular districts in the resale market included District 19 and District 15, which chalked up more than 1,600 and 1,400 deals in the first 11 months of 2021; these are popular areas amongst locals and HDB upgraders. In terms of transaction value, unsurprisingly, District 10 recorded a whopping $3.9 billion worth of deals, driven by high-end luxury homes and Good Class Bungalow (GCB) deals.
For 2021, the resale and subsale market is expected to sell more than 19,000 units. In 2022, the resale transactions could hit between 15,000 and 16,000 units.
Top 5 Resale (Non-landed) Districts in 2021 by sales volume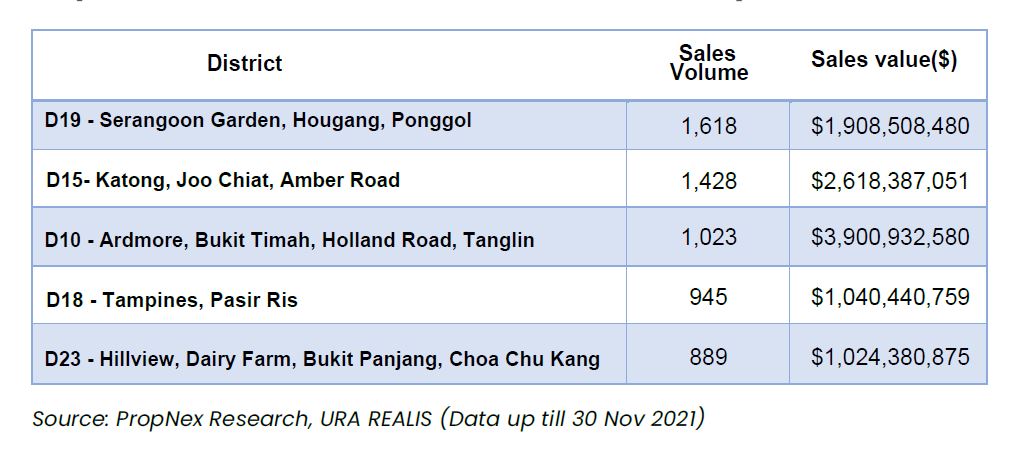 Price Projection 2022